United Nations Security Council Resolution 1308 (2000) recognizes the devastating impact of HIV/AIDS on all levels of society and a link between this disease and world security and stability.
This resolution emphasized the vulnerability of the uniformed services, international peacekeeping personnel and international civilian personnel deployed in peacekeeping missions
UN resolution 1308 also encouraged, member states to develop in cooperation with the international community, effective long-term strategy for HIV education, prevention, Voluntary Confidential Canceling and testing facilities (VCCT) and treatment of their personnel as part of their preparation for their participation to peacekeeping missions.
For this purpose DPKO has developed strategies and commitments to be undertaken within the peacekeeping missions to implement UNR 1308 resolution in peacekeeping missions: one of the main concerns of the DPKO is reducing the risk of peacekeepers contracting or transmitting HIV/AIDS while in missions these programmes included, training, testing, and cooperation with the national military and the civilian population as well as care of affected personnel, provision of resources and development of best practices.
As part of DPKO UN peacekeeping missions MINURSO started since 2004 for the first time the implementation of UN resolution 1308 on HIV/AIDS and DPKO's programmes. To achieve its goals, MINURSO HIV/AIDS Task Force initiated in-mission programme which take into consideration the specific needs of the mission's staff members civilian and military. The programme includes 
Availability and free distribution of male and female condoms,
Availability of Post-exposure Prophylaxis (PEP) kits in the mission area
HIV/AIDS awareness programmes through Lotus Notes.
HIV/AIDS awareness lectures
Town Hall meetings to commemorate the World Aids Day
Regular meetings of MINURSO/HIV/AIDS Task Force were held every three months.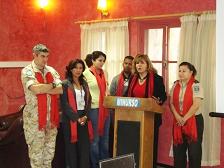 For the first time in MINURSO Voluntary Confidential counseling and testing training took place in March 2007 in mission. Ten staff members' civilian and military have successfully participated to this training. The aim of the training was to provide testing and counseling facility available for all MINURSO staff.
MINURSO is safe: ZERO HIV/AIDS declared  infection has been maintained during the last years.