Anti Personnel mines stockpile destruction 2011, Tifariti, Western Sahara
On February 28, the Frente Popular para la Liberación de Saguia el-Hamra y de Río de Oro (POLISARIO) destroyed 1,506 anti-personnel mines in stockpiles. Stockpile destruction is internationally recognized as one of the pillars of mine action, hence the importance of this date for mine action in Western Sahara. The stockpile destruction which took place in Tifariti (Western Sahara, east of the berm) is the fourth undertaken under the 'Deed of Commitment Under Geneva Call for Adherence to a total ban on Anti-Personnel Mines and For Cooperation in Mine Action'.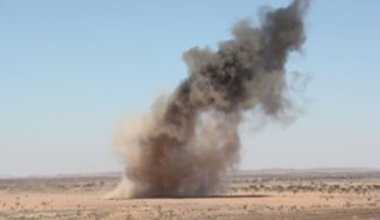 In 2005, the POLISARIO signed the "Deed of Commitment" renouncing the use of anti-personnel mines and committing to stockpile destruction and co-operation in mine action through periodic monitoring. Since signing the agreement, the POLISARIO has undertaken four stockpile destructions. In February 2006, 3,321 mines were destroyed, followed by 3,321 in February 2007 and 2,000 in May 2008. To date, a total of 10,148 mines have been destroyed.
The ceremony, close to the destruction site in Tifariti, was attended by representatives from the POLISARIO, other authorities and international and local organizations and media.
The MINURSO Mine Action Coordination Centre (MACC) conducted the quality control of the stockpile destruction and UNMAS implementing partner, Landmine Action UK, provided technical support. The Senior Technical Advisor (STA) of the MACC, Diek Engelbrecht, congratulated the POLISARIO for this achievement and Landmine Action for its dedication towards reducing the threat posed by munitions and Explosive Remnants of War. Finally, Mr Engelbrecht declared: 'Today's stockpile destruction of Anti Personnel Mines must be recognized by the global community as the commitment shown by the POLISARIO towards international mine action obligations'.
Mr Karl Greenwood, Chief of Operations from the Landmine Action Western Sahara programme, whose teams provided technical support to the destructions, thanked the POLISARIO authorities for their constant support and cooperation. He said: "Without POLISARIO's support, Landmine Action's achievements so far, including Battle Area Clearance of Tifariti and Mehaires regions – would have not been possible."
Geneva Call observed the destruction, as part of their engagement with the POLISARIO to rid Western Sahara of anti-personnel mines. Mr Pascal Bongard, Programme Manager from Geneva Call, African Programme, expressed his congratulations for setting an example in respecting international humanitarian law on landmines.
Mr. Aziz Haidar, President of the Association of Saharawi Victims and a victim of landmines himself also spoke at the ceremony. At his side was Mona Hafed (4 years old) who was badly injured by a cluster bomb on 2 February.
Since 1975, mines and ERW have killed over 500 people and injured over 1,500, although it is believed that the number of victims is likely higher, given the lack of accurate data collection.
Mines and ERWs have had a considerable impact on people's livelihoods in Western Sahara. During the dry season, when vegetation dries up and water becomes scarce, shepherds must move considerable distances in search of water, but this is extremely dangerous in areas affected by mines and ERWs.
Author of t: Louise Orton, Landmine Action U.K.